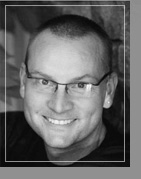 Stu is the CEO and founder of The Ovation Company based in Coeur D' Alene, Idaho. Stu is a specialist in promoting improved school climate and cultivating positive interactions with all who share the school environment. Stu has been a professional presenter and trainer for over a decade and travels the country working with students and teachers alike to help build strong school communities and improve campus culture and climate. Stu is a national presenter for programs like Breaking Down the Walls with Learning for Living Corporation, LINK CREW/WEB and The Boom Boom Revolution through The Boomerang Project. Stu's break out sessions will focus on anti-bullying programs Connecting the Dots and 4Word Momentum (Play Fair, Be Nice) under the umbrella of The Ovation Company.
Besides being an educator, Stu has been a professional actor for over 20 years. Stu met his wife 17 years ago while performing in a production of "7 Brides for 7 Brothers". This promises to be an entertaining and informative keynote speech and breakout session. You will walk away with practical solutions to meet the needs of an ever-changing school environment.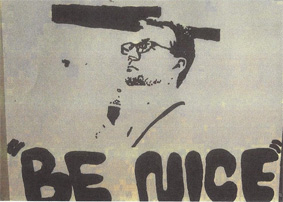 This is poster on foam-board of a drawing of Stu, and was created by the fantastic students at Chinook MS after a visit from him. We are so honored that they are allowing us to showcase it here on our site. We at Ovation just love it, and it really SPEAKS to anyone who has heard Stu's passion!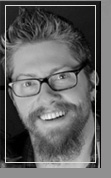 Born into education as a third generation Washingtonian, Geoff McLachlan was destined to work with students. His mother is a kindergarten teacher and his father is a high school English teacher as well as track and cross country coach. With aunts, uncles, cousins and both sets of grandparents in education, Geoff had little choice in his search for a rewarding career.
After two years at North Idaho College, Geoff began working at a local high school as an educational assistant in the special education program. It was then that Geoff decided to embark on his journey as an educator. Geoff graduated from Eastern Washington University with a Bachelors degree in Education and endorsements in K-8 general education and K-12 in Reading with a minor in special education. While attending college, Geoff was heavily involved in theatre, both on and off the stage, and also worked with the Coeur d' Alene summer Theatre as the shop Forman and assistant Technical Director.
Since graduation from college in 2003, Geoff has had the opportunity to teach a broad spectrum of subjects and grade levels. He has taught Kindergarten, LAP/Title reading programs to 1-4th graders and Physical Education and woodworking as a shop teacher at Shaw middle school in Spokane, WA (and still has all his fingers and toes). With a proud Scottish heritage, a big red beard and an energy that is hard to equal, this self proclaimed goof ball finds that his strength and passion comes in working with Elementary and Middle school students. Geoff has a youthful approach to life coupled with an old world charm that makes speaking and teaching a good fit.
Some of Geoff's hobbies and interests include: avid karaoke singer, guitar player, martial artist, actor, fly fisherman, home remodeling enthusiast, dog trainer, hearty eater, brother, husband, son and friend too all. Geoff shares his life with his beautiful wife Danelle and his awesome K-9 Shamus.